Crack 18 symbols of Excel 2010 password in 90 seconds
One day the client asked us to retrieve password for his Excel 2010 file.
And so we did!
We got the craved password in about 90 seconds.
What's the trick? The solution contained two preoperational and one operational steps. We used Passcovery's program to crack password.
Let's see the details.
The forgotten Excel 2007-2016 password becomes a real problem since these files can't be decrypted without password. Accent OFFICE Password Recovery uses high speed abilities of video-cards to solve the case.
Step 1: "Search range limitation"
The lesser variations you have the faster the search goes. Just be sure the password is included in the search range.
We found out everything the client remembered about his password.
His pass contained words and small phrases, so we created special dictionary with all possible words from the lost password.
All Passcovery programs work with Unicode dictionaries, so you can include all national symbols in your words.
We had to check all separate words as well as all possible word combinations like rock, rockstar, michaelrockstar etc.
Though the task is easy, it still needs some specific knowledge.
See useful hints how to link several dictionaries on YouTube Passcovery channel:
Passcovery products use similar interface, so you follow the same steps.
Step 2: "Dictionary attack scenario creation"
We've defined rules for dictionary linking.
For this Passcovery programs use macro-language and Rules Editor. There you can create scenario and see how it works.
1. We run Accent OFFICE Password Recovery and opened Rules Editor:
2. We created new file in Rules Editor and added there the set of rules to cover all word forms (dictionary inner links and small and capital letter combinations).
You can see word variations in the right column.
Each rule must be placed in separate line. That's why we got so many lines:
3. Now all the rules are added, the scenario is saved. It's time the next step.
Step 3: "Crack Excel password"
Now we put everything together including the encrypted document, dictionary and scenario to recover the Excel password.
1. We opened the password protected Excel file in AccentOPR: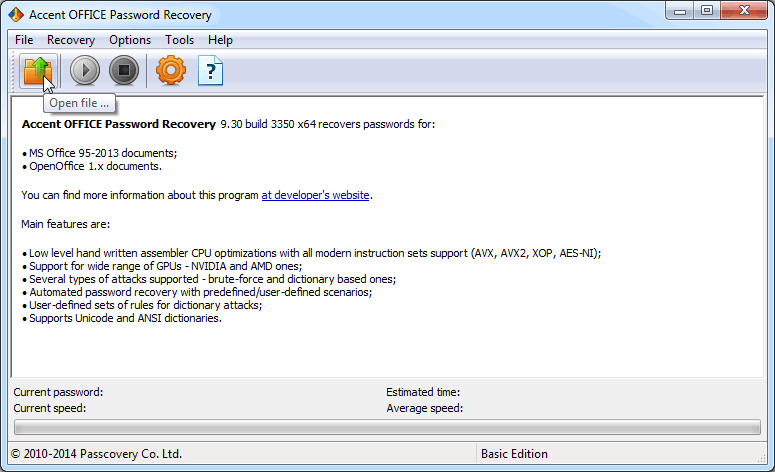 2. We learned its format and protection type (reliable Microsoft Office 2010 protection with 128-bit encryption key) and chose dictionary attack: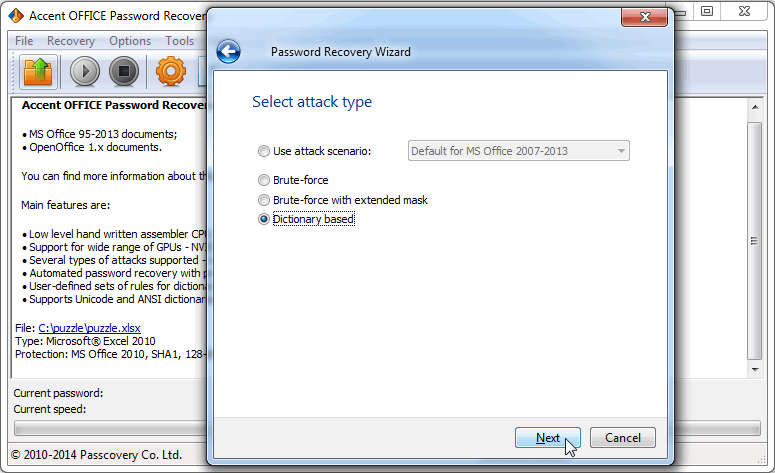 3. We chose our scenario file 3. We chose our scenario file and chose the same dictionary three times in a row to link the words. The result you can see below: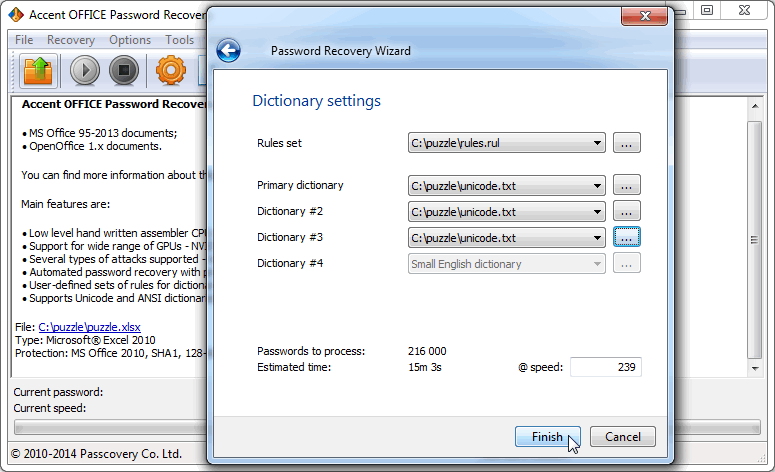 4. So that was it! We run the search and got the password in 90 seconds. It appeared to be RockMichael5805356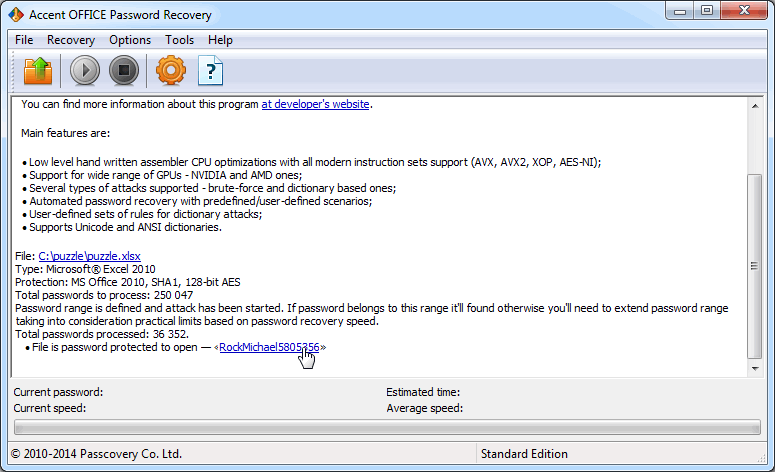 The program sequentially created word combinations and checked them till the correct password was found.
Though we used Accent OFFICE Password Recovery, this technology is available for all Passcovery programs. With our programs you can retrieve passwords for:
Microsoft Office/ OpenOffice/ Adobe PDF documents
Zip/Rar archives
Apple iOS/BlackBerry OS file backups
TrueCrypt volumes
WPA/WPA2 handshakes
The password recovery is always performed on the highest speed possible as all programs are optimized and use video-cards AMD and NVIDIA as preferable.
Test their free demo version right now — download free demo.