How to crack Microsoft Office passwords?
Masked brute force attack


At present there are five different packages of Microsoft Office 2007 ranging from temperate Office Home and Student to uncompromising Office Ultimate. Each with different filling and different password protection types. Some are really feeble and passwords are cracked instantly (like Outlook passwords), others are harder nuts to crack taking some several seconds time. There are hard cases though cracking which requires brute force attack. These are first of all passwords to Microsoft Word docs and tables created in Microsoft Excel. Recovering such passwords may cost you some time and even money. Let's see how to use this time effectively and what tricks we can play!

As is well known there are several methods to crack a lost password, also known as attacks. The simplest and the most reliable of all, though also the slowest one, is a brute force attack. Even with the most powerful computers searching for all possible variants may prove too much time-consuming. That's why a brute force attack itself is not so attractive being a slow and ineffective way to crack Microsoft Office passwords.

While the better way is a modification of it – a masked brute-force attack. The range of possible passwords is limited by a mask i.e. password generation criteria. The more rigid the mask is, the less possible variants there are and the quicker the recovery process goes.

All programs meant for recovery of lost passwords to Microsoft Office allow to adjust a mask to search for those passwords. This feature is originally realized in Accent OFFICE Password Recovery with an Advanced Mask Composer. It's a visual component allowing to set various possible values for each position in the password to be generated. It's seems a bit uneasy to use at first sight but soon the first impression proves wrong. Once you learn how to use Advanced Mask Composer you'll have no difficulties in creating rather complex masks. And so quickly at that!

This is how Advanced Mask Composer looks like in the program:

Perhaps it'd be easier to estimate the value of Advanced Mask Composer with a realistic example. Suppose you know that the password you search for begins with a capital letter, then lower case characters follow and it all ends with a digit. A mask with these very parameters is just two clicks away.

Look at the screenshots:

Or watch the video: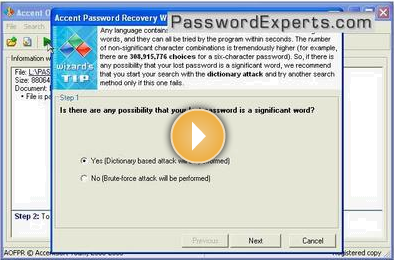 How to crack Microsoft Office passwords with masked brute force attack. Example one. (Flash, 1.1Mb)
Or a different situation. All you know is that the first part of your password is your cat's name, then follows a pair of digits and some capital letter. A couple of clicks and here it is – the mask is ready!
Look at the screenshots:
And here's the video: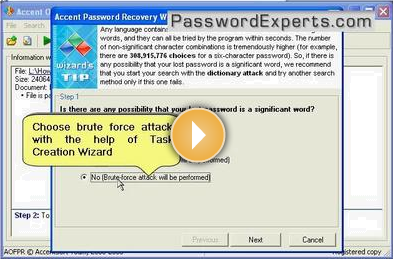 How to crack Microsoft Office passwords with masked brute force attack. Example two. (Flash, 1.3Mb)
So exciting! However it's not all that peachy as we, users, would want it to be. The current version of Advanced Mask Composer still lacks some flexibility. For example you can't set an unspecified password length. Proceeding from our previous example, how long is the intermediate part specified by lower case letters? Three or four symbols? Accent OFFICE Password Recovery is not yet able to automatically change that value. And you'll have to change a mask each time you verify passwords of various length. Perhaps the developers of Advanced Mask Composer will correct that in its future editions. On the other hand, it's going to make the mask creation process more complicated.
One thing you can be sure of: Advanced Mask Composer is already now an excellent mask creation tool for recovery of passwords to Microsoft Office docs with the help of the masked brute force attack.
Masked brute force attack is a compromise way to recovercrack passwords to such Microsoft Office documents as Microsoft Word docs and tables created in Microsoft Excel. Of course it's not that fast as dictionary based attack but is much more effective than just a dictionary based attack. With just a little piece of information about the password you're searching for and using Advanced Mask Composer you can try and see everything for yourselves.
How to crack a password to Microsoft Office docs using masked brute force attack? Now you do know that! Good luck!