Break Excel Password in 3++ Ways
Many of us have important data in Excel that we must protect from malicious hacking and lock against unauthorized changing. That is why we use different types of password protection. That especially concerns corporate environment where privacy and data integrity are critical. That works just fine until you face the challenge:
"How to break lost password in Excel?"
This short article presents a step-by-step tutorial on how to crack lost passwords. Which method to choose depends on the type of protection and Excel version you are using.
Method 1: Instant removal of Excel password
This method suits all versions of Microsoft Excel, but only lets you lock a file from unauthorized editing. This way you cannot remove access protection («Password to Open»).
However, you can instantly remove (or recover) the following passwords:
Password to Modify
Workbook Protection password
Worksheet Protection password
VBA password
Let's see how it works.
Step 1. Download and install Accent EXCEL Password Recovery. This program finds and removes passwords of Microsoft Excel files.
Accent EXCEL Password Recovery for Windows
Step 2. Start the program and open your password protected Excel file. AccentEPR will instantly generate suitable passwords or offer to remove password protection [1]: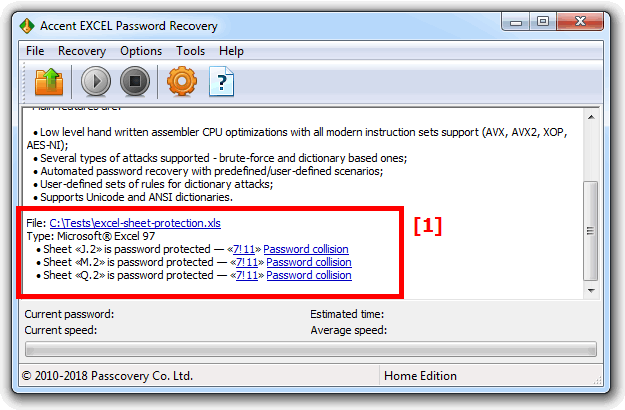 Step 3. Just click on the password [1] to copy it to the clipboard [2] or create an unprotected copy of the document: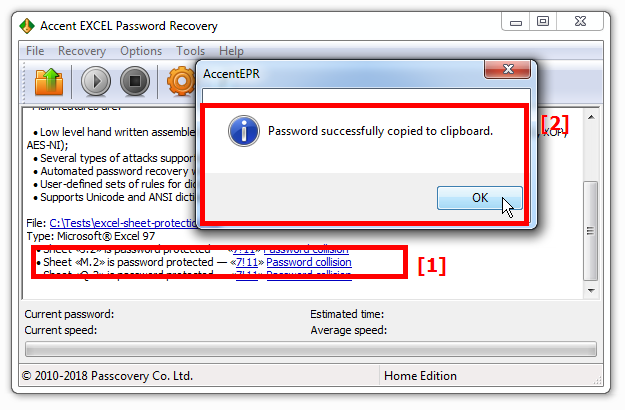 Method 2: Decrypting Excel files without password breaking
This method is suitable for "cracking" a document open password, but only applicable to files with a short (40 bits) encryption key — Excel 97-2003 documents (.xls files).
With this method, you do not actually crack a password. You decrypt the file by searching for the encryption key. As a result, you get an exact copy of your original data without finding the password.
Quick and 100% successful result.
Let's see how it works:
Step 1. Upload your file to AccessBack.com and type in your email:
Step 2. A few moments later, you will receive a screenshot of your password-protected file to your email address. That is how you make sure your Excel file has been decrypted successfully: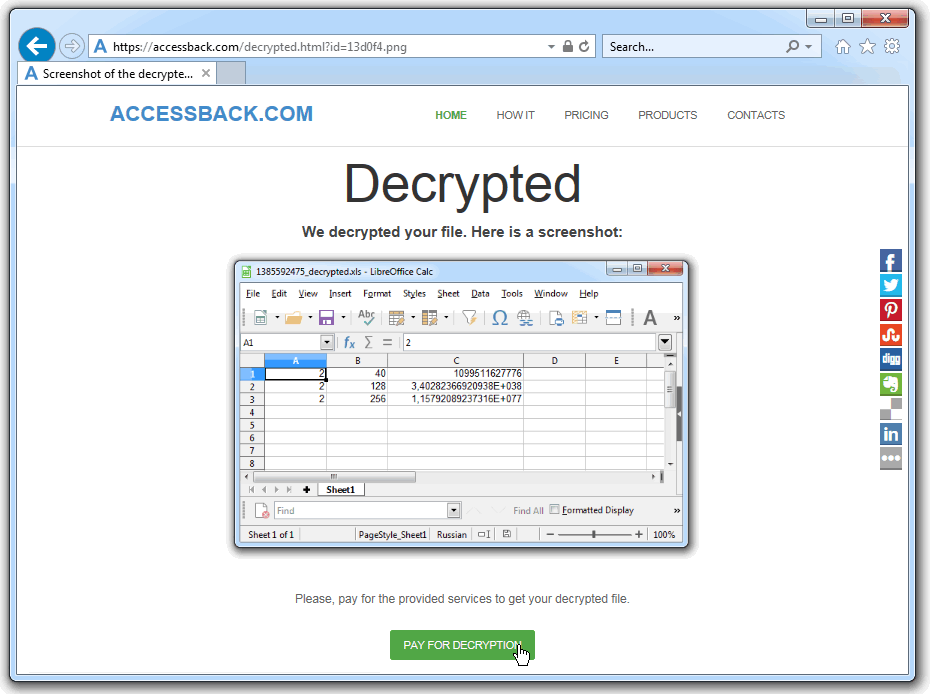 Method 3: Excel password recovery
This is perhaps the most universal and popular method that is suitable for breaking Password to Open Excel files of all versions. It is actually a brute force attack aimed at finding the suitable password. You are more likely to break the password much faster if your brute force attacker is fast enough and if it offers a wide range customization options.
Let's see how it works:
Step 1. Download and install Accent OFFICE Password Recovery. This program breaks passwords of Microsoft Office/OpenOffice/LibreOffice documents of all versions and can (this is important!) work on AMD/NVIDIA graphics cards.
Accent OFFICE Password Recovery for Windows
Step 2. Start AccentOPR, open your password-protected Excel file, see the information about file format and applied security options: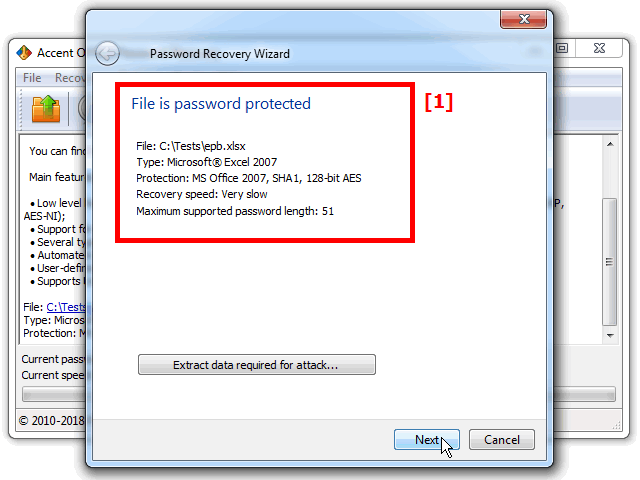 Step 3. Select a password attack: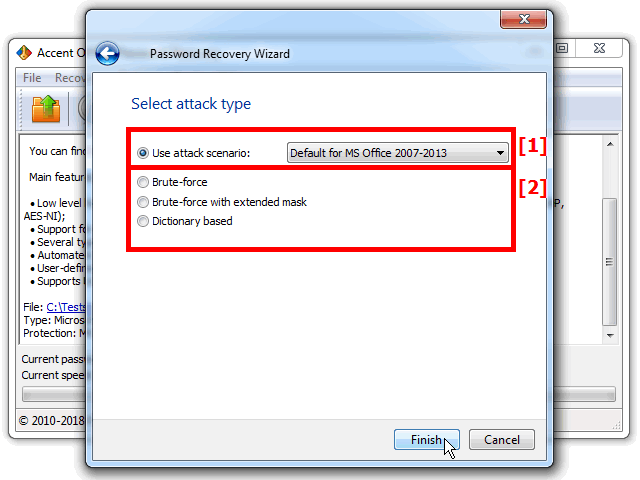 AccentOPR allows you to select a scenario (sequence) of attacks [1] or one of the attacks available [2]:
brute force attack (with simple mask) — trying various combinations of passwords again and again until the right one is found
extended mask attack (positional mask) — brute force attack that generates and tries passwords based on a certain structure or pattern while discarding passwords don't match the given pattern (see example)
dictionary attack (with mutation rules) — brute force attack that uses ready-made lists of passwords and tries only the entries of those lists (and also their derivatives). Such dictionaries can be downloaded or created anew (see example)
Step 4. Configure settings for the selected attack and run Excel password breaker: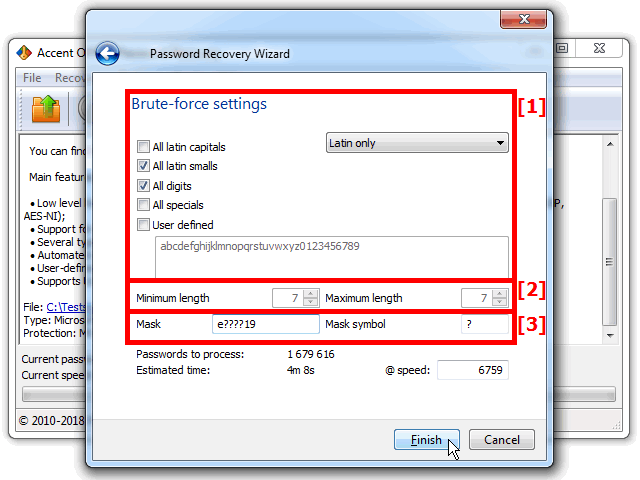 Typical brute force attack settings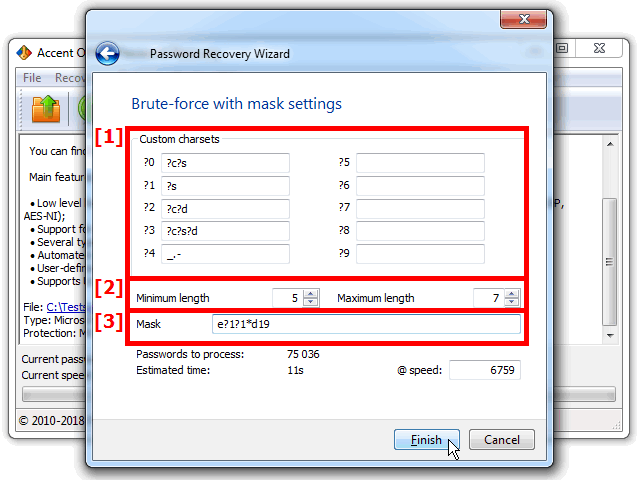 Typical settings of extended (positional) mask attack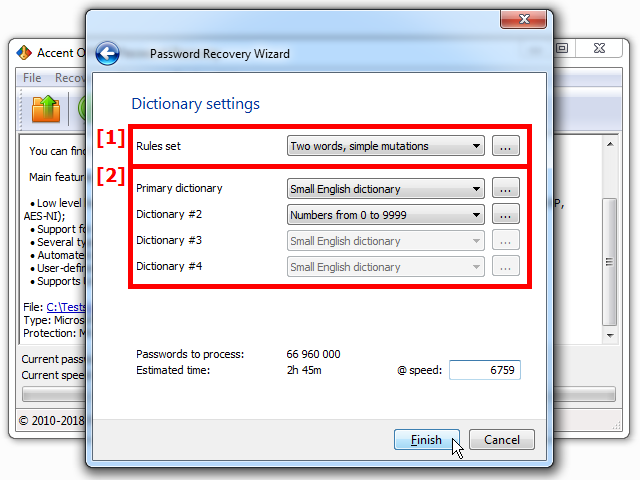 Typical settings of dictionary attack with mutations
Step 5. As soon as AccentOPR finds the password [1], it will display it on screen. You can copy the password to clipboard by just clicking on it [2]. Open your password-protected Excel file and use the recovered password:
GPU acceleration of Excel 2007-2013 password recovery
The time required to break an Excel password depends on how fast a brute force attacker you are using. The faster your tool is, the sooner you will find the password. For that reason Accent OFFICE Password Recovery supports acceleration on AMD/NVIDIA which reduces the time spent on brute force attack when searching passwords to open Microsoft Excel 2007-2016 (.xlsx files).
With GPU acceleration, the speed of searching can be tens of times higher!
Bonus: Instant recovery of Excel 6-95 passwords
As already stated above, it is impossible to instantly remove access protection («Password to Open»).
However, that is not quite the case.
Both AccentEPR and AccentOPR can instantly find passwords of Microsoft Excel 6-95 files. This is due to the particularity of protection in this file format and special features of these programs: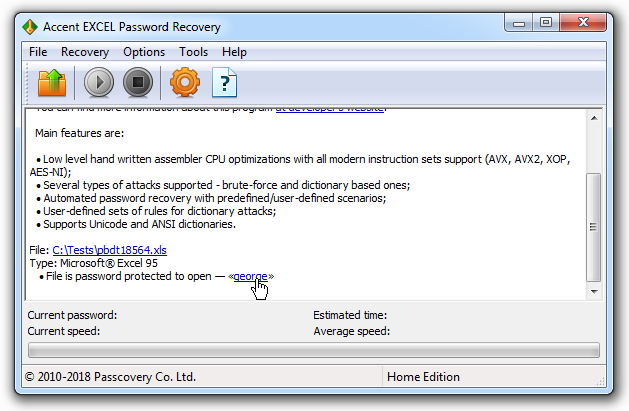 CONCLUSION
Now you know about the three effective ways (+bonus) to break Excel passwords. Each method is fit for a particular purpose: password to modify or password to open files of various Microsoft Excel versions.
You can delete, decrypt or break your lost Excel passwords with maximum efficiency. Now you know how to do that.